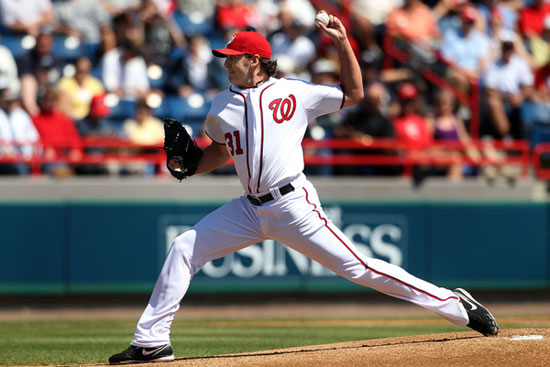 John Lannan was supposed to be the fifth starter in the rotation for the Nationals this season. Davey Johnson changed his mind last minute, giving the spot to Ross Detwiler.  That left Lannan to twiddle his thumbs in AAA…until now.
According to Mark Zuckerman, Lannan will return to the Nats for a start on Saturday.  However, with Stephen Strasburg on an innings limit and Chien-Ming Wang's health what it is, we could see Lannan on a regular basis down the road.
Just when the Nats won't want him.
Rumors say the Nats are shopping for another starter, something they seem to have an abundance of already.  But when Strasburg is inevitably shut down, they will need another arm, and the options they have aren't great.
Barring a trade and a remarkable health turnaround for Wang, the Nats could turn to two main sources: Lannan or Tom Gorzelanny. Yeah, that's the situation we're dealing with.
We all know why Gorzelanny is a bad idea, so I don't need to go there.
For Lannan, it was a tricky year, and we all understand that.  What is less understandable is his 6-9 record and 4.89 ERA in 18 starts for Syracuse this season.
Last time Lannan was in the minors, he took it as a challenge.  He looked at it as a time to improve his pitches and become better.  He has been averaging 5.2 innings per start, and they've been far from impressive.  There is no reason to believe he can start in the majors when the Nats will be in the middle of a playoff run.
Maybe he'll prove me wrong Saturday, and I hope for the Nats' sake he does. But if he is the Nats option in September, that's not a good sign.