After many months of speculation, the Minnesota Vikings, the Minnesota Sports Facilities Authority and HKS Sports and Entertainment Group have now unveiled their plan for the new Vikings Stadium.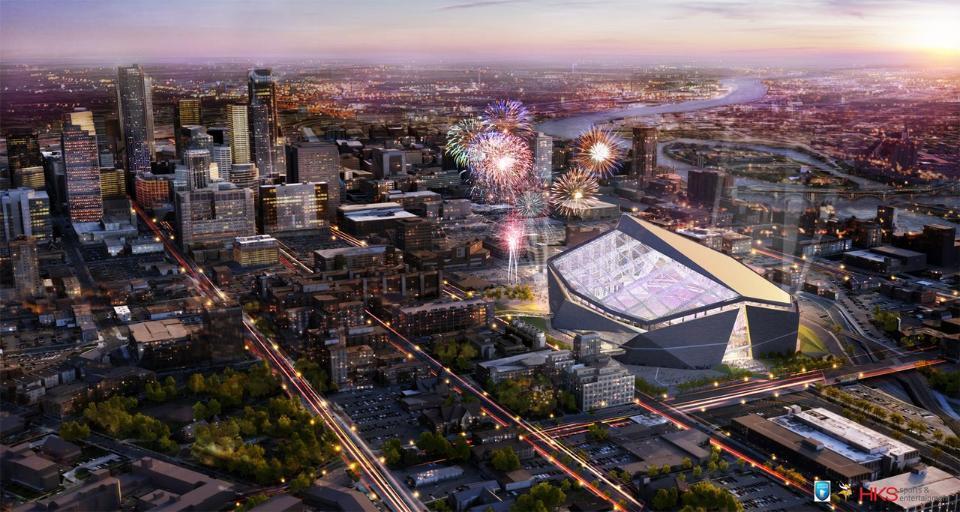 "The design reflects the true story of the Minnesota community with its international style driven by climatic response and energy conservation," said Bryan Trubey, design principal, HKS Sports & Entertainment Group. "The interior volume makes it the most versatile, multi-use building in the country with the most advanced digital age technology."
They will break ground on the $975 million stadium this October in hopes of being completed in time to start the 2016 season. Demolition of Mall of America Field will begin shortly thereafter.
"Tonight's unveiling showcases a bold, iconic design delivered by HKS," said Vikings Owner/President Mark Wilf. "Not only is this facility unique to Minnesota, but the stadium will also provide Vikings fans with the best game-day experience in the NFL, which has always been our goal."
Here is a look at the best features in the new stadium:
65,000-seat stadium (expandable to 73,000 seats for a Super Bowl)
Capable of holding other events in addition to Vikings' games (Examples: MLS soccer, NCAA basketball and baseball, high school sporting events, motocross, concerts and more )
Largest transparent roof in the world
Operable doors that open to downtown Minneapolis
Sloped roof will be most efficient roof structure in the nation
Seat configuration will put fans closer to the field than in any other NFL stadium
Operable walls and clear roof will give fans outdoor feel without being in the element
For more on the new stadium, check out Vikings.com.