He is one of the league's most dominate running backs. He has been the NFL's rushing leaders. Since joining the league, he's rushed for over 6,500 yards and scored 56 touchdowns. Yes, I'm talking about Atlanta Falcon running back, Michael Turner.
He is today's Tight End Tuesday!
Turner attended Northern Illinois University. He was drafted in the fifth round of the 2004 NFL Draft by the San Diego Chargers. He was the 154th overall pick that year. In 2008, Turner signed a six-year, $34.5 million contract with $15 million guarantee.
Enough about Turner's background and accolades! Picture time?
Michael and his … glorious chin puff … agree! Here we go!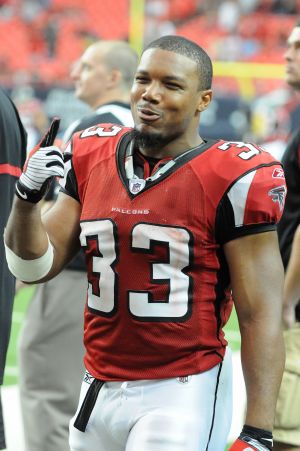 …. Umm, it is Tight End Tuesday….
Yes Yes! Here's hoping for an excellent season, Michael!
One more picture? Ok ok!
Boom!
Remember, Tight End Tuesday's are just about players who play the Tight End position … it just helps if they have one! So if you have an athlete you would like to see featured in this section, drop a comment or send me a tweet, @missmiranda.