I'm a big time New Jersey Devils fan.  This season has been super enjoyable as the Devils take on the Los Angeles Kings in the Stanley Cup finals.
One thing in particular I have enjoyed about this season is the uprising of a rookie.  He started with the team, then was sent down, and brought back up and has been extremely dominant in the line with Zach Parise and Ilya Kovalchuk.
He's had a playoff run to remember scoring two series ending overtime goals.
Not to mention that he is also extremely good looking.
I present to you Adam Henrique!
No, I wasn't lying.  He is extremely good looking.  I like a man in a good suit.
Oh yes, I did mention the two overtime goals.  Here they are.
This first one is from Game 7 against the Florida Panthers.  The game went to double overtime and Henrique scored his second goal of the game; his first two career playoff goals.
The second is from Game 6 of the Eastern Conference finals against the New York Rangers that put the Devils into the Stanley Cup finals.
This still shot of Henrique celebrating the goal is my new favorite photo.  His big ole' smile and Kovalchuk and Alexei Ponikarovsky celebrating in the background.
OK some more action shots.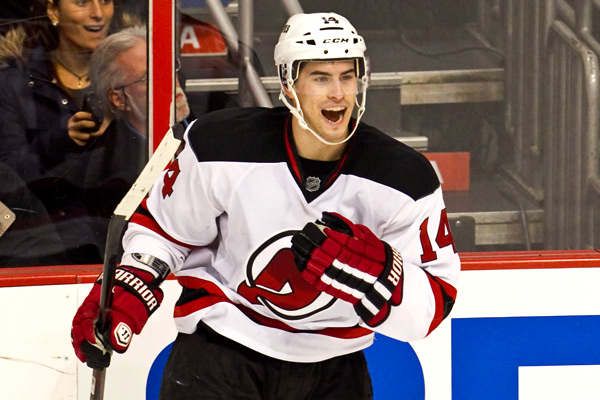 Outta my way!
And shortly after that….
….Henrique totally won.
His personality is adorable and he's great with the media.
Adam Henriuqe makes my insides tingle.
The Rookie of the Year nominee is going to have an amazing career.  I'm looking forward to it.