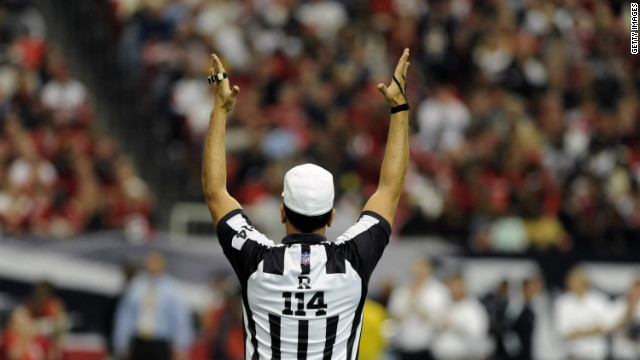 Our resident official in training, Joe Tufaro, is answering questions below. During this weekend's slate of games, feel free to ask a question by either commenting below or sending a tweet to @missmiranda!

* First quarter of the Sept. 27, Thursday night game. Browns Josh Cribbs gets hit in the helmet around 4 minute mark. Goes down. appears injured. ball gets loose, Ruled a fumble. WHY?
This is a call that is made possible by replay….on my level, where we don't have such things, we would have blown the play dead when the helmet came off the runner, and it would have remained with the Browns, but through the miracle of television, the Referee was able to come to the conclusion that he had lost the ball BEFORE his helmet came off, and therefore was a fumble.
* Explain the Minnesota Vikings Josh Robinson tackle on Detroit Lions Nate Burleson, where they called "unnecessary roughness."
Actually this was another easy call…the forward progress of the runner was stopped, the whistle was blowing, and he actually lifted the receiver off the ground and threw him to the turf…that's pretty much automatic.
* Explain the concept of intentional grounding.
Intentional Grounding is one of the few calls on the field that requires more than one official,and where the flag is usually thrown after some discussion. There are some different parts to this foul, but it's pretty basic.
If the QB is in the pocket, and throws to an area where there is no receiver, or simply throws it out of bounds to avoid a sack or save time, it is intentional grounding. If the QB is out of the pocket, he may throw it out of bounds IN FRONT OF THE LINE OF SCRIMMAGE, to avoid a sack without penalty. Any pass thrown backwards remember is a fumble, and therefore should be spotted where it left the field of play.
The discussion, and the resulting "late flag" is usually what causes the angst with fans and announcers. The issue is the Referee is only watching the QB, and therefore needs help from the other officials to determine if a receiver was in the area, and/or if the ball crossed the line of scrimmage.
ALSO Here is something everyone should watch. It's two of the replacement officials discussing the whole experience with Cris Collinsworth and James Brown. Very insightful: