I love taking suggestions on Midweek Muscles. While I love and appreciate a variety of players, I also enjoy the opportunity to be introduced to new ones. This week's featured player comes from my good friend, Danielle Llanes. The player comes from Italy and is blue-eyed hottie Claudio Marchisio.
Now, as stated, I'm not very familiar with this gorgeous 26-year-old Italian midfielder. I asked my friend, Dee, who is my go-to on the Italy squad. Here's what I got. Claudio plays club football for Juventus in Serie A and featured in the 2012 Euro squad for the Italians. And … okay, honestly, I stopped paying attention after that because I was drawn in by the pictures. So I'll just let them do the talking for me. Enjoy!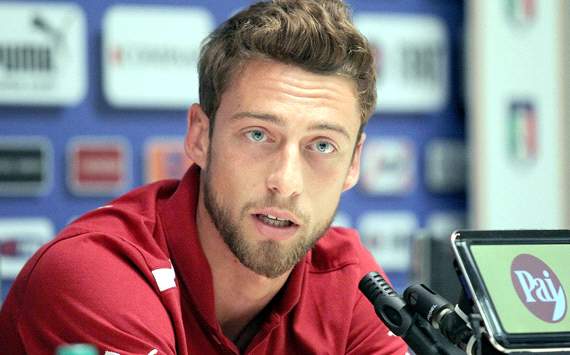 Oh, and you know those oh-so-famous Dolce & Gabbana underwear shots? He was in some of those. Be mindful, you have been warned.

Whew!
Thanks again to Danielle and Dee for their info and suggestions this week! If you have an idea for our Midweek Muscles posts, be sure to let us know on twitter at @AerysSoccer! And don't forget our other weekly posts; Getting to Know You Tuesday and Throwback Thursday!
---