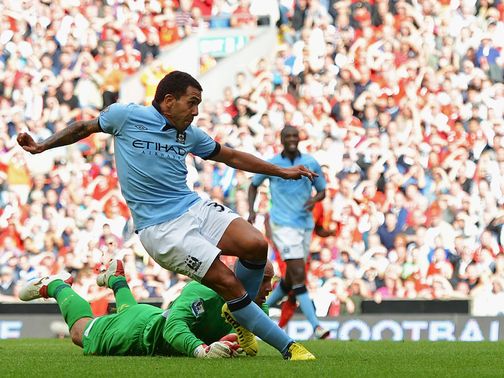 What a disappointing match from Manchester City.
After coming back to win 3-2 in their last match against Southhampton, City settled for a 2-2 draw with Liverpool today. Although, to be fair, City was missing their two best players. Sergio Aguero was injured in their last match and will be out for a month. David Silva, who many people have said wasn't in form in the last match, sat out the first half.
Last week, Manchester City was able to get 3 points in a difficult match for them. Liverpool on the other hand, lost 3-0 to West Brom. Coming  into this match, City were the favorites of course. In fact, I even predicted City would win 3-1.
Looks like I was wrong.
Although City had been slightly better in the first half, it was Liverpool who scored first. They went into half time leading 1-0.
In the second half, City started playing much better. They were able to equalize thanks to Yaya Toure. The City players and supporters didn't have much time to celebrate though. Luis Suarez would notch a goal in City's net, and Liverpool was ahead yet again. It looked as though City would lose this match until Carlos Tevez scored his second goal of the season.
The game ended 2-2 and City will be happy to take that point, considering how they played for most of the match. For Liverpool, this was a disappointment. They led twice in the game, only to give up goals and 2 points.
Dropping 2 points isn't the worst thing for City, but this was a match they had been expected to win. With less than five days until the transfer window closes, many are expecting Mancini to add a few players to the City roster.
Image courtesy of sportinglife.com
---