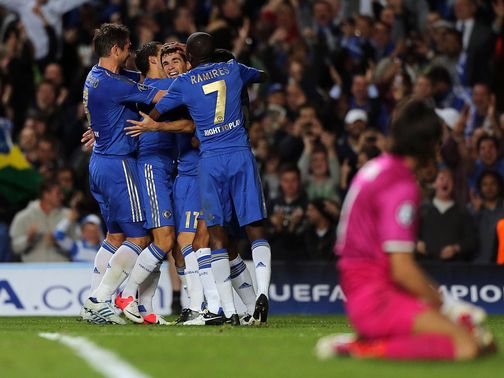 If you expected today to be as interesting as yesterday, then you might have been disappointed. None of today's matches could compare to the drama of yesterday's Real Madrid-Manchester City game. That's not to say that the games were boring or anything.
In fact, if you watched today, you would've seen an amazing goal from a young Brazilian and a not so great goal from another Brazilian.
As expected, Barcelona, Manchester United, and Bayern Munich all won their respective matches. Chelsea was another team that should've won, but ended up getting a draw. They were up 2-0 by the 35th min, thanks to Oscar who scored both of Chelsea's goals. Unfortunately, they weren't able to stop Juventus from scoring and they were able to equalize.
This is yet another disappointing match from Chelsea, who earlier this weekend, had drawn against QPR 0-0. Luckily for Chelsea, Juventus is their toughest opponent in this group. They should be able to win against the other two teams with no problem.
Here's that amazing goal I was talking about earlier. It came from Chelsea Brazilian Oscar. http://msn.foxsports.com/foxsoccer/video/champions-league/?vid=ef202789-51d9-4f7a-a5c1-1b4400046b5f
While Oscar was making Brazil proud of him, they were hoping Dani Alves doesn't do this while playing for their national team. Barcelona was up 1-0, when Alves scored a goal. Unfortunately for him, it was in his own net. Oops. Here is Alves' own goal. http://www.101greatgoals.com/gvideos/dani-alves-own-goal-barcelona-v-spartak-moscow/
Here are all the scores
Group E
Chelsea 2 – Juventus 2
Shakhtar Donetsk 2 – FC Nordsjaelland 0
Group F
Bayern Munich 2 – Valencia 1
Lille 1 – BATE Borisov 3
Group G
Barcelona 3 – Spartak Moscow 2
Celtic 0 – Benfica 0
Group H
Braga 0 – CFR Cluj-Napoca 2
Manchester United 1 – Calatasaray 0
Photo courtesy of SportingLife.com
---