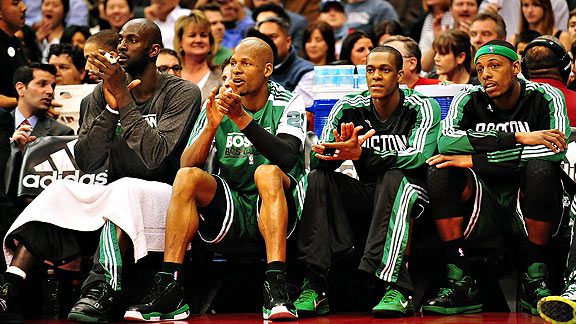 It's always good to look back on the good times and that is exactly what we will continue to do in Part 2 of the Remembering the Best of the Boston New Big Three Era from 2009 – 2012.  During this time, Rondo emerged into one of the best point guards in the league.  The Big Three emerged into the Big Four then the Big Four then turned into Rondo and the Big Three.
2009-2010: Lost in NBA Finals to LA Lakers
Top 10 Plays:
Celtics clinch Eastern Conference Title in Lebron James last game in a Cavs uniform
Ray Allen breaks NBA Finals record: Hits 8 3-pointers
2010-2011: Lost in 2nd round to the newest big three in Miami
2010-2011 Season Highlights:
Ray Allen breaks NBA 3 Point Record
Paul Pierce drops 38 while Rondo records triple-double in round 1 of NBA play-offs
Rondo returns to game after dislocating elbow
2011-2012: Lost to now-NBA Champions in the Eastern Conference Finals
2011-2012 Season Highlights:
Mini movie
BAR FIGHT!
Kevin Garnett can shoot 3′s y'all!
Paul Pierce passes Larry Bird for #2 all-time in Celtics scoring
Rondo scores 44 in Game 2 loss in Eastern Conference Finals
Paul Pierce drains a 3 in Lebron James' face
Big Three exit game 7 of Eastern  Conference Finals
Tributes to the Big Three
Big Three
Last chance
End of an Era
What a run!
Thank you for a wonderful five year run.  It was heart breaking at times, but equally rewarding at other times.  For those who don't return, it was a pleasure having you in green and you will always be a CELTIC!  But hey, maybe Ray Allen and Kevin Garnett will re-sign with the one and the only Boston Celtics to pursue Banner #18 in 2012-2013…Only time will tell.