If there's one thing New York Giants fans and Dallas Cowboys fans can all agree on about yesterday's game, we all wanted to throw up after watching it.  It was a blood pressure rising victory for the Giants defeating the Cowboys 29-24.  Not really sure how to explain it in words, so here are some Seinfeld gifs to help me.
The Giants open the game with a field goal by Lawrence Tynes, giving a 3-0 lead
To fast forward a bit, Tony Romo threw three interceptions followed by a Dez Bryant fumble on a punt return.  Tynes kicked some more field goals, and Henry Hynoski paved the way with a huge block for the Giants redzone touchdown.  The Giants at this point were leading 23-0 early in the second quarter.
Then everything started to fall apart.  Ahmad Bradshaw made a costly fumble that eventually led to a Cowboys touchdown.  It absolutely killed the momentum the Giants had and the Cowboys roared back to eventually take a 24-23 lead going into the fourth quarter.
The only thing I hang onto is the fact that it's the fourth quarter and Eli Manning now has the ball in his hands.  He led the Giants down the field, but when Domenik Hixon failed to get the first down they settled for another Tynes field goal.  The Giants now have 26-24 lead.
The defense stepped up on the next drive and stopped Romo and the Cowboys from scoring again.  Also, once again, thanks to Hixon failing to reach the first down…again…Tynes kicks another field goal to bring the score to 29-24.
The Cowboys get the ball back and drive it down the field.  On fourth down with 1:14 left to play, Romo is rushed by three different defenders and chucks a ball in the air, which is intercepted by Stevie Brown.
Seemed like the game was wrapped up, but once again the Giants failed to get the first down and the Cowboys have the ball back for a little over 50 seconds left and moved the ball from their 30 to the Giants' 37.
Romo found Bryant between Michael Coe and Corey Webster in the back of the endzone and the officials ruled it a touchdown.
My initial reaction:
My Cowboys' fan friends reactions:
Then the replay showed that Bryant's fingertips touched out of bounds before he hit the ground for the touchdown.  My new reaction:
The officials made the reverse call official and put the clock to 10 seconds.  Somehow the Cowboys still managed to get three plays in that amount of time, their final play coming with one second left…
Romo's last pass atempt with one second left went sailing through the back of the endzone and out of bounds.  My final reaction:
Cowboys fans everywhere: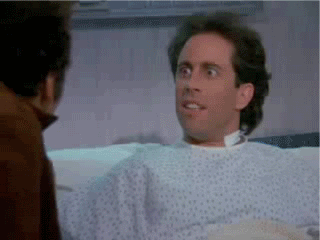 Nothing short of an emotional rollercoaster.