It took two seasons, but LeBron James finally made good on his promise of bringing his talents to South Beach to win some championships with the Miami Heat.
He took home Most Valuable Player honors after a performance that included 26 points, 13 assists and 11 rebounds in Game 5 of the championship series against the Oklahoma City Thunder.
What better way to start your week than a look at that MVP! I present you with LeBron!
In his time in the league, the 27 year old has made some spectacular plays. But he's also made some interesting fashion statements of late… take a look!
Check out the shoes, the murse… THE STYLE in this shot of him going through the tunnel with Dewayne Wade.
How about this scarf?
The glass-less frames? So studious, LeBron!
But he's also quite the ball player, here are some shots of him in action: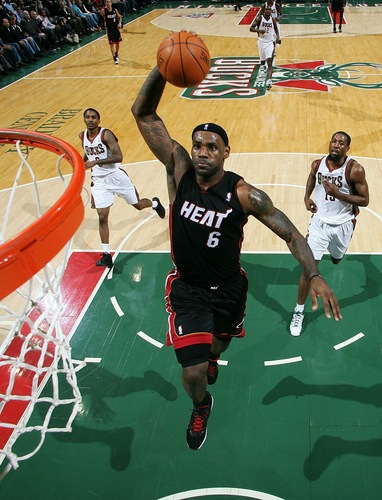 LeBron James, y'all! Enjoy your Monday!
Miranda Remaklus is lead writer for Aerys Offsides in the NFL section. She's also a contributor at Aaron Miles' Fastball in the MLB section. Follow her on Twitter, @missmiranda.