With one series in Milwaukee and an opening day in Miami in the books, new Cardinals manager Mike Matheny has gotten off to quite the good start. He's 3-1. Not bad for a guy with no experience managing, huh?
Since it's Monday, and I am all for motivating people … I have a little motivation for you Matheny fans!
Enjoy!
We've also gotten quite a few nice dugout shots of Matheny…
And my personal favorite…
Here's one more nice dugout shot …
And finally, here's one or two of him in action…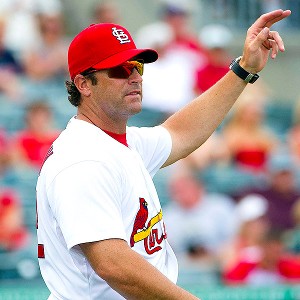 Ladies. You. Are. Welcome!
Miranda Remaklus is lead St. Louis Cardinals contributor at Aaron Miles' Fastball. She's also senior reporter at Aerys Offsides in the NFL section. You can follow her on Twitter, @missmiranda!