In another twist to this oddball NHL season, Brendan Shanahan, everyone's favourite NHL Senior VP, Player Safety & Hockey Operations, has determined that he no longer needs to appear in the NHL's Player Discipline and Safety videos.
In fact, he's not even going to tweet about the videos anymore. No, Shanny tweets about what Shanny wants. If you want to know about suspensions you'll have to follow the official Twitter account for NHL Player Safety (@NHLPlayerSafety).
If we can't see Shanny judging players for misbehaving during the 2013 season, we can at least look at a few hockey card gems and use our creative minds to imagine what Shanny might look like when telling us how naughty some of the boys have been.
What Shanny needs to remember though… is… um… Shanny just because you won a Stanley Cup in 1997 doesn't excuse you from everything else that went on that year. *cough*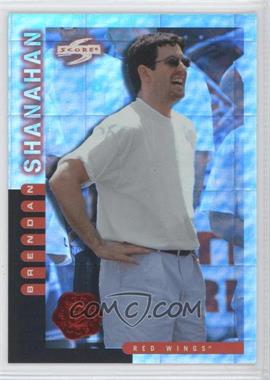 Seriously, if you really feel the need to have a gawk at Mr. Shanahan take a look at this interview on CISCO NHL Live from February 5, 2013. You might not get another chance to see him again this season. *sad trombone*