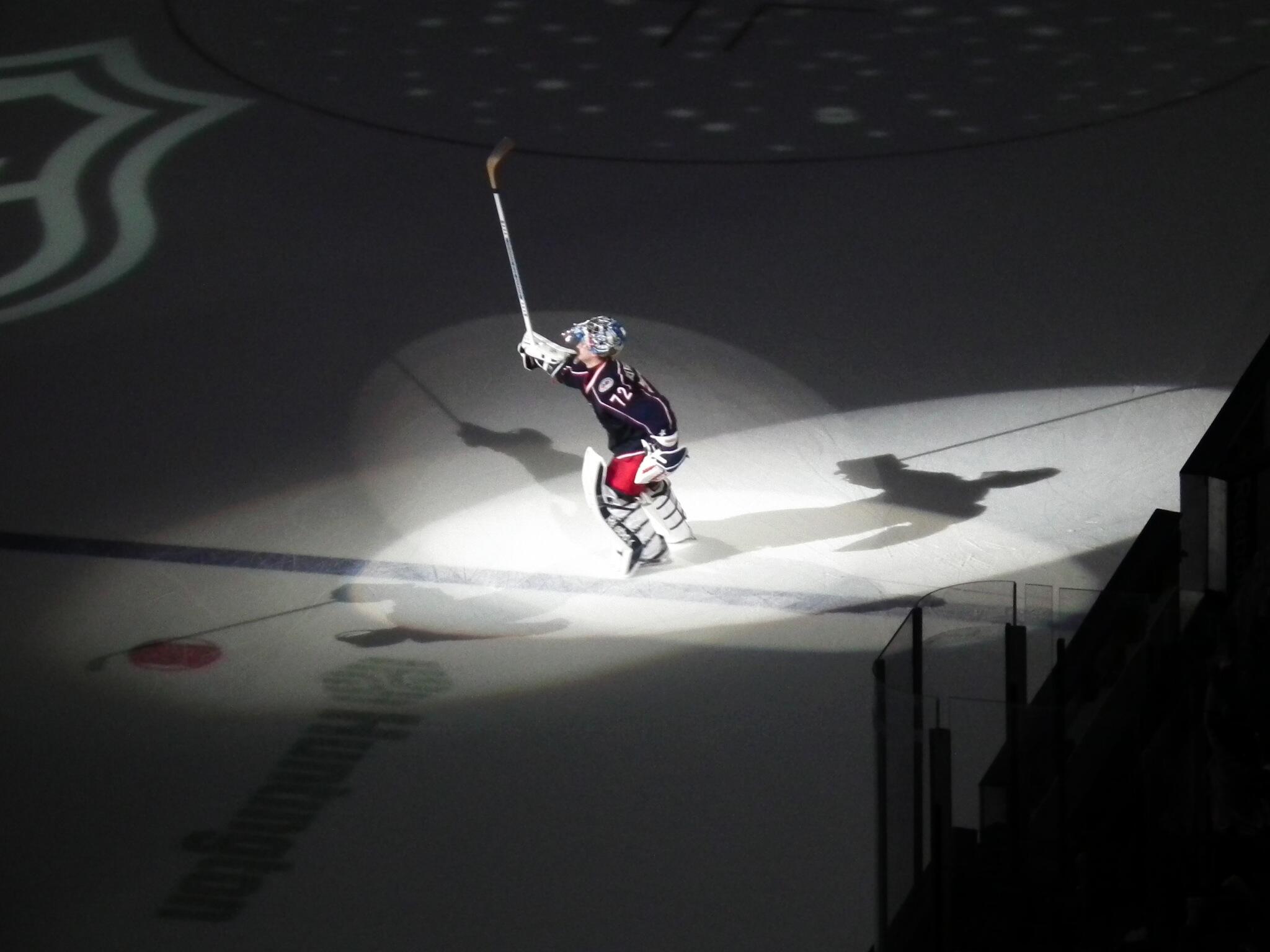 Sergei Bobrovsky (Columbus Blue Jackets)
The Columbus Blue Jackets are only two points out of the playoffs for the first time in years and it is all in thanks to this man. Sergei Bobrovsky has been playing like a man possessed – or, in short, like a very, very good NHL goalie. The Jackets currently have the lowest goal/game ratio, with a large portion of their recent games going to extra time. Yes, they're playing much better defensively than in years past, and are a hard-working, grinding team, but the real reason? Sergei Bobrovsky. After wilting in a back-up role in Philadelphia, a town notoriously hard on the position between the pipes, Bobrovsky has flourished in Columbus and firmly taken the #1 starter role. Philadelphia's got to regret letting this one go.
After being named the NHL's First Star of the Week with 0.77 GAA, .972SV%, and a shutout in four games, Bobrovsky has improved this week to a staggering 0.62 GAA, a .982SV%, and a shutout in three. I didn't know that was actually possible.
The thing is, the Jackets probably didn't even have the playoffs in their sights. This is a short season for the team before everything goes topsy-turvy with a move to the East and two changes in higher management that are sure to begin improving the franchise. But if Bobrovsky gets them there, he'll deserve free dinner from his teammates for a very long time.
***
Ray Emery (Chicago Blackhawks)
The Chicago Blackhawks have it all. The Blackhawks have shown an astounding depth this season, rolling all four lines and having the defense contribute offensively on their way to a historic, record-breaking game winning streak. I mean, even ESPN talked about it. But it wouldn't be possible without the dynamic duo of Chicago's goaltenders, Ray Emery and Corey Crawford, keeping Chicago's GA second lowest only to Ottawa. After a worrisome sophomore season, Crawford is also a candidate, but Emery is the story in the Windy City.
Ray Emery has stepped up in unimaginable ways. Last season, goaltending was Chicago's weakest link. Nowadays shows quite a different tale. Emery has been the perfect back-up, playing reliably and backstopping Chicago even when Crawford was down and out with injury. After a potentially career-ending hip operation, Emery has bounced back and established himself among the best of the best. He is the first NHL goaltender in history to start a season 11-0. Yeah, this guy is still undefeated in regulation.
And the Blackhawks' streak? Could very well have been broken in February 2nd's game against Calgary, where the Hawks played some spectacularly uninspired hockey. Emery stole the win for the team, stopped 45 of 47 shots and somehow managed to remain standing through the shootout. Four for you, Ray Emery.