After a few months of stacking small piles of hockey cards all over my apartment, I finally had the chance to spend some time to properly organizing overthinking my card binder. Rather than coming up with a specific plan or actually putting any cards into the binder, I decided to look at Marty Turco cards on eBay because TurcoMania still runs wild in my heart.
It was then that I stumbled upon the "You Da Man" Marty Turco card pictured above. I had somehow forgotten about the 60 card Sidelines subset that made its appearance in the 2009-10 Upper Deck Be a Player Signature Series set. When the set was released, Sidelines cards weren't anything new for hockey card fans or collectors with or without a sense of humour.
The 1992-93 Pinnacle Sidelines Subset (which I will get to at some point) was very informative. How would I have ever known that Luke Richardson was a rocket builder? And other cards popped up here and there with news about what players were doing off the ice, many of them related to the sport of golf.
Let's relax, unwind and take some time to enjoy a few of the anecdotes and guffaw inducing moments brought to you by a handful of the 2009-10 UD BAP Sidelines cards.
You can admit it. When you saw Nieds sitting in the locker room and read: "Cup Day: Niedermayers Do It Big," you immediately thought of one thing. Where is his banana? But this hockey card is about glacier climbing and the Stanley Cup. Look at the photo again. Now you see it, don't you? Doesn't it just scream helicopter rides and brotherhood and hoisting the Stanley Cup up above your head high atop a pristine glacier somewhere in beautiful British Columbia? Of course, it does.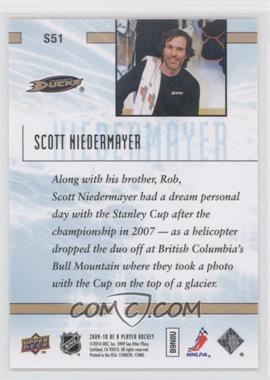 "Zdeno Chara speaks seven languages" was the "Dougie Hamilton is 19 years old" of the 2008-09 season. I can't wait to see if there will be a "Teach Me How To Dougie" card next season.
a·loft
/əˈlôft/
Adjective: Up in or into the air; overhead.
This is the most half-assed attempt at finding a photo of a player holding a trophy aloft that I've ever seen.
Upper Deck may as well have put "Swedish star has dead eyes" on the front of this card.
Brad Richards is just a "regular guy" who was drafted in the 3rd round, 64th overall, by the Tampa Bay Lightning in the 1998 NHL Entry Draft. Sometimes when he's "cutting loose" and playing video games against friend and fellow NHL star Vincent Lecavalier, he throws tantrums "just like me and you." Oh, and then there's the charity work and stuff.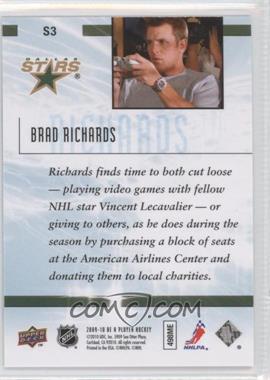 But where are they going? Did Harvick drive Carter to the Winter Classic? Does Harvick get to wear a Winter Classic toque? More importantly, does "Carts" know that Harvick also drives a Chevrolet?!?!!1!! Upper Deck absolutely ruined this card when they failed to include that detail or any photos of Carter flying in a helicopter to meet his race car driver buddy at a Nascar race à la Henrik Lundqvist. You lose, Carter. You lose.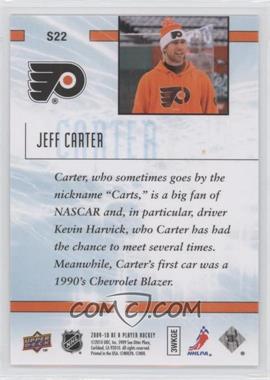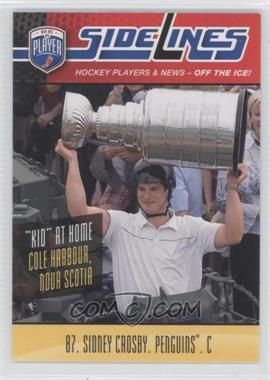 Another card with a half-assed attempt to find a photo? This one. I'm glad that Safety Sid showed up in Cole Harbour to celebrate his Stanley Cup victory. (Sid was riding in a Canadian Forces vehicle at the time.)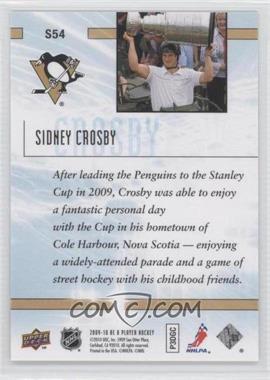 Because I can, I give the Sidelines subset contained within the 2009-10 Upper Deck Be a Player Signature Series set a rating of: