Location:
Evanston, IL
Driving Distance from OSU Campus:
369 mi – 5 hours 44 mins per Google Maps
Founded:
1851 – In 2008, the University expanded their reach a bit and opened a campus in Education City, Doha, Qatar. That branch offers programs in journalism and communication.
Number of students:
8,425 Undergrad
10,759 Post-grad
(Per Wikipedia)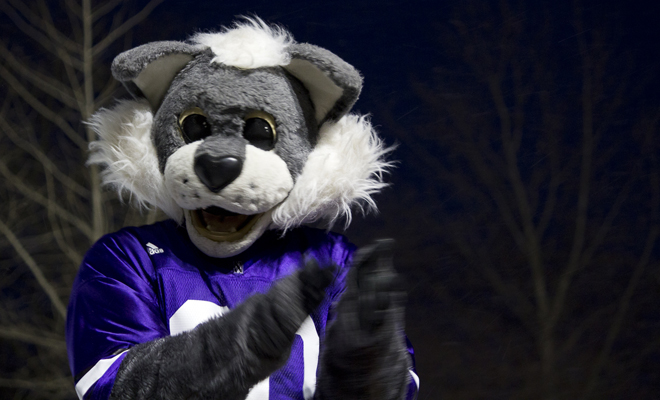 Nickname:
Wildcats. Their mascot is Willie the Wildcat
Fun fact about nickname:
Northwestern's first mascot was a live, caged bear cub from the Lincoln Park Zoo named Furpaw. After a losing season, the team decided that Furpaw was bad luck and he was banished from the campus. No word on who the bad luck after that was attributed to.
Things to do in Evanston:
You know, it's right next to Chicago. I think you all can figure this one out on your own.
Notable Northwestern Alumni:
Zach Braff – Actor primarily known for Scrubs
Mike Greenberg – Mike and Mike co-host
Michael Wilbon – PTI on ESPN
Darren Rovell – One of Aerys favorite sports business journailsts! /NotReally
Katie Dzwierzynski – Fellow Aerys NCAA writer
Conference:
B1G
Record Vs. OSU:
14-58-1
Current Line:
OSU -4
Returning Starters:
8 offensive, 7 defensive
Outlook:
It's weird, you know? I have actually had this game tabbed as a loss for OSU since the start of the season. There are so many things that could go horribly wrong with the obvious defensive holes that exist on this Buckeye team. But for some reason, I'm starting to change my mind.
For one thing, these teams actually have a common opponent in Cal. Both of them played the Golden Bears on the road. Northwestern won 44-30, The Buckeyes won 52-34. Northwestern gave up 460 yards passing and 89 yards rushing. Ohio State gave up only 371 yards passing, but 132 on the ground. Basically, what I felt was an abysmal effort by the passing D wasn't quite as abysmal as Northwestern's passing defense and OSU mustered more points.
It's a stretch, but it's all I have.
Oh, I also have this. Ohio State is third in the B1G in total offense and the Wildcats are at 9th in the B1G in total Defense. OSU just faced a rather stout Wisconsin D (third in total D) and, outside of the laying off of the throttle in the 4th, did just fine. On the other side, Northwestern is 5th in total offense and Ohio State is 5th in total D.
When I add all of that together, it makes me feel better. Also, add in the Gameday thing and that helps. Ohio State seems to do better than their opponents in these situations. I remember the 2006 Iowa/OSU game vividly. It was possibly the most hyped game in Iowa's recent history and they just folded under the lights. I have a feeling it could be a similar situation in Evanston if the Wildcats can't reign in the emotion. The big difference between those games being that I'm not sure exactly how hostile Evanston will be. OSU fans traditionally dominate the stands. In 2006, Ryan Field was probably 2/3 Buckeye fans. The prices are a bit steep and I'm not sure Northwestern fans are as insane as OSU fans in terms of spending money to watch their team play.
Plus, for some stupid reason this happened and I feel like Northwestern may have incurred negative Karma.
So, all things considered, I feel better. I'm not sure fans of defensive struggles will feel better as I don't expect this to be a low scoring affair. I can see this being the same kind of OSU game that every OSU game this year has been…Buckeyes jump out fast, lay off the throttle and the game feels closer than it really was in the end.
Now, I'm off to drink more Scarlet Kool-aid to continue to aid myself in feeling better.
Prediction:
OSU 48, Northwestern 38