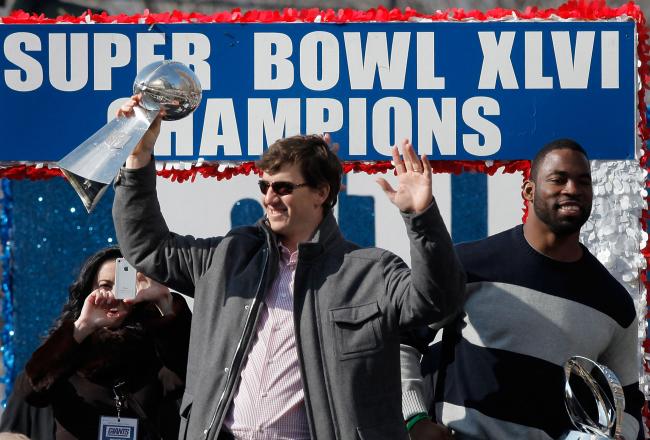 Mandatory minicamps have begun and before we know it training camp this coming summer will begin.  The New York Giants are coming off a championship season and are looking to work in every way possible to defend their title.  Here are the top five keys the Giants need to work on in order to accomplish this goal:
5.  Eli needs to stay elite
I don't think there's anything to worry here.  However, to insure victory, you need Eli Manning.  You need this guy to be the QB he was last year:  tough, clutch, and a leader.  Manning has already talked about what he needs to work on personally.  The number one stat he needs to improve is lowering his interceptions.  He led the league in 2010 with 25 and cut them down to 16 in 2011.  Even with his best season on record, Manning is bothered by the stat and wants to make sure it gets better.  Even with the 16 interceptions, Manning was the best clutch QB in the NFL bringing his team to come-from-behind victories almost every week.  When you played the Giants, the game wasn't truly over until the clock was 00:00 after the fourth quarter, and it's all because of Manning.  As long as he stays clutch, and continues to be a tough QB, he will have no problem leading his offense down the field.
4.  Find the perfect WR trio
In the 2011 season Hakeem Nicks, Victor Cruz, and Mario Manningham were an unstoppable trio of receivers.  It didn't matter who the opposing defenses forced Manning to throw to.  All three were trustworthy and were at their spots to make catches.  Right now that trio is broken up.  Manningham left New York for San Francisco and Nicks is out with a broken foot.    The Giants hope to have Nicks ready in time for Week 1, but until then what do they do?  There is still one spot open to be that third guy.  That guy that will be there to make third down plays.  Domenik Hixon is returning from his second ACL tear and was used last season as a receiver.  His best catch last year was what caused his injury against the St. Louis Rams.  There is also rookie Rueben Randle from LSU.  Jerry Reese is all about this kid and has claimed he is "NFL ready".  I wouldn't be surprised if Randle is the go-to guy in third downs.
3.  Defensive backs need to step up their game
Last year, the Giants lost their best CB Terrell Thomas to an ACL tear during a preseason game.  The regular season started off very rocky for the backs and it showed that Thomas was really missed out there.  They had their moments of glory, but also very shaky moments of distress.  Corey Webster had a solid year for the CB's with six interceptions and Antrel Rolle got more physical with 82 tackles.  Last year's first round draft pick Prince Amukamara missed most of the season with a broken foot.  Now that he's returned healthy he will have high expectations coming his way in 2012.  Thomas will also be back with a healthy knee and will remind New York why he's so valuable.  In 2010 he led the team in interceptions (5) and tackles (81).  The Giants have also acquired Antwaun Molden from the New England Patriots who will be used as a solid backup.  It is a must for the CB's to work twice as hard as they did last year, especially with the difficult schedule ahead of them.
2.  Protect your QB!
It can't be stressed enough how important it is to protect your QB.  After being sacked 28 times in 2011, the Giants are lucky they have a tough QB in Manning.  The team did not offer a new contract to Kareem McKenzie, whose job it was to provide protection which didn't really happen.  David Diehl will most likely serve as the top tackle for Manning and the line will have a healthy David Baas back.  The key right there is Baas at center.  He has the talent and the potential to give the Giants a strong offensive line.  He was riddled with injuries last year and was prevented from proving so.  If Baas stays healthy, you have a stronger line and a better chance at protecting the QB.
1.  Be the best defense in the NFL
The Giants have the talent and the experience the have the best defensive front line in the NFL.  There were some injuries and distractions that prevented it from being so in 2011.  This year, however, is shaping up to be a lot different.  There is a healthy Justin Tuck, a healthy and (key word) happy Osi Umenyiora, and a young, hungry, and powerful Jason Pierre-Paul.  If these three are on their A-game and attacking the QB every single week, it's game over.  Let's not forget the potential first string linebackers in Mathias Kiwanuka, Michael Boley, and Chase Blackburn that are showing their worth coming off 2011.  After about three seasons it looks like the LB position has finally been solidified for the Giants.  They need to do everything they can to stay healthy and give 110% every single week and they will be the best defensive front line in the NFL.
To be honest, there really isn't much of a transition the Giants have to make in order to chase a repeat.  All they need to do is take what they did in 2011 and make it better.  Manning told the media during the first team workouts that his main concern is for the team to find a way to improve.  If they were successful last year, then how do they make it better?  As long as they head in that direction, they have a great chance at defending their title.
---