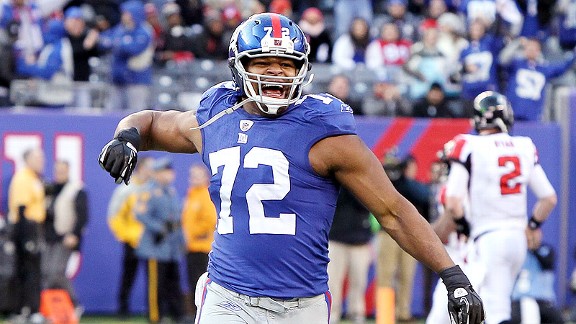 Early Friday morning it was reported that New York Giants' DE Osi Umenyiora has parted ways with his agent.
Later Friday afternoon the Giants and Umenyiora finally, after debating for two seasons, agreed to reconstruct his contract.
According to the New York Daily News, it was the support of his teammates that helped him make the push to want to stay in New York and work a new deal:
I'm just happy, I'm happy it's all over with…It's time to get back to work.  It was definitely frustrating (not being on the field this spring), but hearing some of the things they said, whether it was Kiwi [Mathias Kiwanuka], [Justin] Tuck or JPP [Jason Pierre-Paul] or Antrel [Rolle]–hearing the way they supported me, it made me want to come back even more and be around them.  Those guys really stepped up for me.  I appreciate it and I'm happy to be here with them.
Umenyiora has made it known in the media for the last few seasons that he wanted to rework a contract and get an extension.  It became quite a saga as the DE isn't shy and is willing to speak his mind.  He was unhappy with his six-year, $41 million extension he signed in 2007.  He was to make just under $4 million this season.
Last season Umenyiora attempted a hold out, and Giants GM Jerry Reese gave him the opportunity to seek a trade.  When they could not find a team willing to trade a first round pick, Umenyiora decided to end his hold out, but opted for knee surgery after a few practices.
Umenyiora did not practice with the team until he and the Giants came to some sort of agreement and lock in his status with the team.
Details of what was agreed on are not known at this time.