With the 29th overall pick in the 2012 NFL Draft, the Minnesota Vikings selected Notre Dame safety Harrison Smith.
Here's a little bit of information on Harrison from NFL.com, "Harrison is an ultra-athletic, big and smart safety who has roamed the secondary as a four-year starter and senior captain for Notre Dame. He is the type of safety who is always involved, using his quickness, recognition and overall body control to react effectively to plays. While he has just adequate speed, he makes up for this deficiency with strong play recognition and anticipation, and he is often in a position to make a play on the ball. Overall, Smith is a smart, athletic defender who should push to start early in a zone-heavy NFL scheme. Expect him to contend for a late first-round selection with the help of impressive postseason workouts and interviews."
Sounds good right? Well … the look isn't that bad either! Harrison is today's Tight End Tuesday!
Not bad, huh!
Well, I won't bore you anymore about Harrison … here's some more pictures! 
Here he is when he was interviewed by the press after being drafted by the Vikings.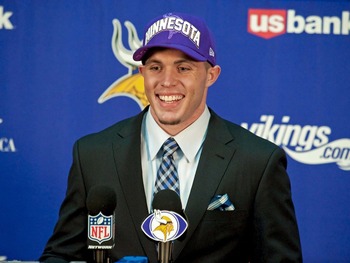 He likes working out….
How about this photo of him at the NFL Combine?
OK… how about some shots of him playing? I've got that too!
Not bad right?! Not bad at all!
We're definitely looking forward to seeing what this safety can do in the league for many years to come.
… OK, one last photo!
Nice!
See even safety's can be a Tight End Tuesday candidate! Tight End Tuesday isn't exclusively for Tight Ends, but it helps if they have one! If you have a player you'd like to see featured, drop a comment or a tweet!
Miranda Remaklus is lead writer for Aerys Offsides. She's also a contributor to Aaron Miles' Fastball in the MLB section. Follow her on Twitter, @missmiranda.