Green Bay Packers Linebacker Clay Matthews is today's Tight End Tuesday…
Yeah! He's excited about it too!
Clay was the 26th overall pick in the 2009 NFL Draft. He had been a late bloomer and was a walk-on at the University of Southern California. During the 2008 season, he dedicated himself to weight-training and conditioning. The USC coaching staff used Matthews in a hybrid "Elephant" position, where Matthews would stand in the position of defensive end, but use the speed and tactics of a linebacker; the coaches had used Cushing in the position in a similar manner in 2006. The experiment was successful, as Matthews recorded 4.5 sacks while playing alongside his other NFL-bound teammates Brian Cushing, Rey Maualuga and Kaluka Maiava.
Matthews is apart of a multi-generational family of football players as his grandfather and  father played in the NFL. Additinonally, Clay's brother and several members of his extended family are all either in the NFL or play college football.
He is a three time pro-bowler. He missed four games this season with a hamstring injury. Matthews returned to the gridiron this week as the Packers were taking on the Bears. Clay was ready! Matthews recorded 6 tackles, 2 sacks, and a pass deflection in a 21-13 victory over the Bears.
OK… so enough talk! Here's some pictures!
Enjoy!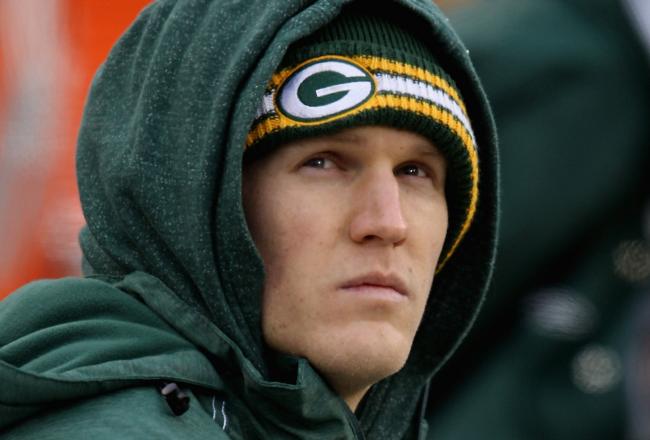 Remember Tight End Tuesday isn't just for athletes playing the position of Tight End. If there is a football player you'd love to see featured here, drop me a comment or tweet, @missmiranda!
Want one more picture, huh? OK!
You're welcome!