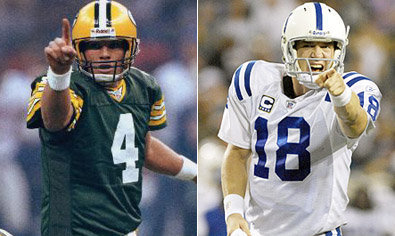 Is any one else having severe deja vu?  All this Manning-Colts reports bring back bitter memories as a Packers (and more importantly, a Favre fan) during the summer of 2008.
So Colts fans, I understand how you feel.  Each day there is a different story (which usually is just a rumor).  The following day, the story has done a complete 180.  You don't know which side is telling the truth or which side is just pulling a PR move to make themselves look better.  You will never know what actually happens behind closed doors, but most likely, we have an idea of how this Manning-Colts relationship is going to end. And for the sake of all parties involved, let's hope Jim Irsay doesn't look to Ted Thompson for advice.
Tom Oates of the Wisconsin State Journal did a FABULOUS story earlier this week  detailing the similiarties of Manning's current situation to Favre's bitter departure from the Packers:
For weeks now, the pattern has been the same: Civil yet pointed public comments from Manning and Irsay followed by a brief period of made-for-TV reconciliation, rinse and repeat.  Distrust is increasing and a messy divorce appears inevitable.

Packers fans can tell Colts fans all about it.  Quarterback Brett Favre was to Green Bay what Manning is to Indianapolis, but when general manager Ted Thompson and coach Mike McCarthy decided in 2007 to move on from Favre and replace him with good-to-go understudy Aaron Rodgers, things turned ugly. Really ugly.

Actually, the two situations followed a well-known sports pattern: Even with legendary athletes, and especially legendary quaterbacks, the final chapter is almost never pretty.

The problem with such departures is age, ability, economics and emotions get intertwined and maintaining perspective becomes difficult for even the most hard-edged decision-makers.  They know they're going to anger fans and even people in the organization, but sometimes such decisions need to be made

Like the Favre trade, you can make a strong case that cutting Manning would be a good football decision, that the time is right even though he might have a few more productive years in his body.

Rodgers' brilliance eased the tensions in Green Bay, though Favre remains a polarizing figure. It is long overdue that fans forgive him for his annual retirement debate and his dalliance with the hated Minnesota Vikings, remembering instead the 16 entertaining seasons and the unprecedented long-term success he brought to the franchise.

I've said this before but it bears repeating: The problem wasn't that Thompson and McCarthy wanted to dump Favre and move on with Rodgers, because that was a legitimate football decision.  The problem was they wouldn't own up to it and instead tried to pin the onus for the messy divorce on Favre, first by forcing his hand on retirement, then by making him look like the problem for expecting to return to his starting job after missing the off season.

Thompson and McCarthy didn't want to be known as the guys who traded Favre any more than Irsay wants to be known as the guy who cut Manning.
I know that was long, but I felt all those words by Oates were necessary.  First off, someone from Wisconsin admitted the Packers were in the wrong and attempted to make Favre look like the bad-guy for PR reasons.  (So I applaud you!).  But mostly, the point of this is to say the Colts need to learn from the mistakes the Packers made.
Although, the Colts haven't been off to a good start, considering Irsay is either tweeting something about it or the media gets hold of information regarding Peyton's health.  The most important thing is for Irsay to trust Manning and that Manning trusts Irsay (which wasn't the case with the Packers).  Trust will be lost with each media report that comes until a decision (if it hasn't already been made).
In the mist of the ugly divorce, Favre noted that all the trust had been lost:
"The problem is that there's been a lot of damage done and I can't forget it. Stuff has been said, stories planted, that just aren't true… They don't want me back, so let's move on."
So Irsay, let me give you a piece of advice, QUIT TWEETING ABOUT MANNING.  Until there is a resolution and decision, KEEP YOUR MOUTH SHUT, especially if you truly want Manning to stay (which I doubt, I feel like it's a PR move, just like with the Packers).
The biggest difference I see with the Favre-Packers and Manning-Irsay drama is what will happen next.
In Green Bay, it was evident the Packers wanted to move on, which reports have said forced Brett Favre to announce his retirement in March:
Coach MCarthy informed him, "We've moved on," signaling the end of an era.  All events from that point were the result of those three words.

Faced with indifference from his coach and general manager, Brett took the hint…Brett decided to retire

Even though he cried at his press conference — and Packer Nation cried with him — announcing that he had "nothing left to give," those of us who knew Brett understood this was not a decision he wanted to make.
So Jim Irsay, I say, if Peyton wants to play, yet you want to "move on" with Andrew Luck…do so, but PLEASE for the sake of everyone involved be clear about it.  Let Peyton go gracefully.  Where ever his heart chooses, even if its to a team in your conference (which made the divorce between the Packers-Favre a million times worse).
In the Packers case, they wanted to move on yet they knew Favre still could play.  They wanted Favre as far as possible from Wisconsin and from having any impact on their season.  When those sneaky Packers (after initial trade talk to the Bucs were crushed since the Packers played them that season) agreed to trade Favre to the NY Jets, they inserted a little tricky clause:
The trade to New York included a "poison pill" that would given the Packers three 1st-round picks if the Jets traded Favre back into the NFC North.
But, in the end the Jets and eventually the Vikings just said "HA! HA! HA! Ted Thompson!":
That clause became null when the Jets did something the Packers never would have, and they granted Favre's release on April 28
So baby, just let him go freely.
Oh, and Irsay (since I know you will be reading this), here is some needed advice from Andrew Brandt (although Peyton hasn't "retired," his arm might have):
The Packers didn't "owe" Brett Favre anything.  He had retired, was paid over $100 million by the team, and he would be a living legend free to return any time with great fanfare.  At the end of the story, though, Brett deserved more from the Packers as a person, not as a player.  Brett had played through personal tragedy; he had raised the profile, the profit and the asset value of the franchise; he had made the Packers a national, and international, attraction.

How could they have treated Brett better at the end? Simple, open, and honest communication, and perhaps a touch of bedside manner and humanity to go along with it.
So Irsay (pretend each Favre says Peyton to make the advice relevant to yourself),  I know communicating your feelings to the person you are in a relationship with may be hard, but it's gotta be done!  Being simple, open, and honest will save the fans from all the messiness that usually comes in divorces.
Oh, and while researching, I found an interesting quote from Tony Dungy.  He was asked about the Favre-Packers situation, and let's just say, he forshadowed what was to occur during the 2012 offseason:
"Understand that it is a business and that at some point it is going to come down to business over feelings … Players have to understand that it is going to come down to that, whether it's PEYTON MANNING(!!!), Brett Favre, Jerry Rice… Eventually, it is going to come to a point when the team says as great as you were, it's diminishing returns now and we've got to move on."
Well, look at that, Tony Dungy can see into the future!
Let's just hope, this break-up has a semi-happy ending, for the sake of the fans!
Kim Sherayko will be the senior Minnesota Vikings reporter at Aerys Skol Patrol. Follow her on Twitter, @KimSherayko.