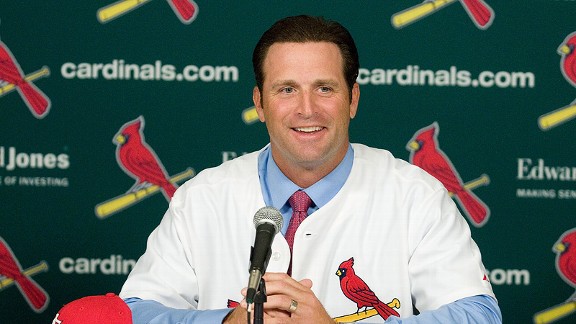 Dear Mike:
What an eventful few months you have had!
You have your first managerial job.
And it's by no means some cupcake job.
No, you have gone for the glory!
You set your goals high and got the skipper's job with a team that has 11 championships, the defending World Champion St. Louis Cardinals!
After such an amazing season, it's still nice to say.
But back to you!
You set your goals high. Presented your case. Impressed management. And got your job.
While you impressed the right people, there are still some folks that aren't completely sold. That's right, the fan base.
This fan base, however, simply needs to remember how you were as a player. You were the guy behind the plate from 2000-04. You were the guy that led the pitching staff. You led on the field and in the clubhouse.
Just knowing this about you makes you manager worthy to me.
Now take into consideration what you've done since retiring as a player.
You've been an instructor at every level of the club. You know this team at the major league level and the minor league level. You know what we have now and what's coming in the future. Not too many managers give a rip to know about a team to the extent you know the Cardinals.
It helps to know that you've been such a mentor to Yadier Molina over the years. I have no doubt that the fans will see Yadi hustle and run more this season than we have in a long time. And for that, I'll be more than happy! And knowing what an influence you've had on the veterans and young guys is also comforting – Chris Carpenter, Adam Wainwright and David Freese … all love you.
And then there is the fierce loyalty you have to your team. That is more admirable than anything. This is your team and you fight for your team … I'm talking get in your face fighting. How can any fan of this team not love that?
So, to say that I am excited about the 2012 season would be an understatement.
I'm excited for the opportunity to see what you do with this team. Sure, it's not the team you initially signed up for because that team included the possibility of Albert Pujols. But it also included the possibility of Gerald Laird and Arthur Rhodes. And Ryan Theriot. And while they are gone now, the remaining pieces to this puzzle that is the 2012 St. Louis Cardinals are sure to be interesting.
So, Mike … There are a lot of fans that are looking forward to 2012 with you as leader. Best of luck!
No pressure, but you better bring us Championship number 12 in 2012!
With Love,
Miranda
Miranda Remaklus is lead St. Louis contributor to Aaron Miles' Fastball. She's also senior reporter at Aerys Offsides. Follow her on Twitter, @missmiranda.